Business Storage in Adelaide
Business Storage in Adelaide
Businesses in Adelaide have the convenience of using a Self Storage Facility in the CBD of Adelaide or at Mile End just 1 km from CBD and on an arterial road that slips between Adelaide north, Adelaide south and the western suburbs . Location is the key. Our Business storage centers don't tie you in to long leases having to pay hefty bonds. Short term or long term. Excess stock can get delivered direct to our storage facility freeing up your office and work space.
For Architects, Lawyers, Conveyancers  and general offices this is an affordable and easy option to solve your storage needs. Declutter your office or workspace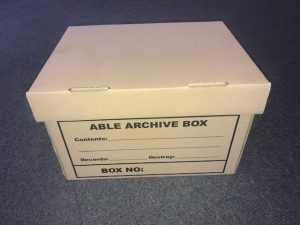 We sell archive boxes at Able Packaging for your storage needs. With a managed storage agreement we can receive and dispatch parcels, Boxes and even pallets for you.
With Government regulations to hold document storage for 5 – 7 years why pay high rental cost in you office, take up valuable space  and look unsightly when as a tax deduction you can conveniently store with Able Self Storage. For self storage Adelaide prices please phone or email us.
Located at 14 Logan St Adelaide CBD and 11 James Congdon Drive Mile End. Easy payment options by direct debit, Pay Pal or put it on your credit card and get your points and save for that next holiday. We invoice monthly for affordability or take up our 6 month or 12 month discount storage fees. If you move out before you reach your paid to date we refund back to you the unused portion. We can't be fairer than that. See or phone  our friendly staff and ask any questions you have. We can tailor a storage solution for you saving money, reducing stress which can benefit both businesses. We are members of the self storage association of Australasia.
Save if you're ABLE
Clean, effective and cost saving. Container storage Adelaide is an option. Now that's a business decision. Phone 7444 4147 or email us so we can help